Chancy Drugs has been a longtime supporter of Wiregrass Georgia Technical College's Pharmacy Technology programs. The company provides clinical site locations for Wiregrass students, participates in an advisory role for the program, and has recently donated $25,000 to the college for the program.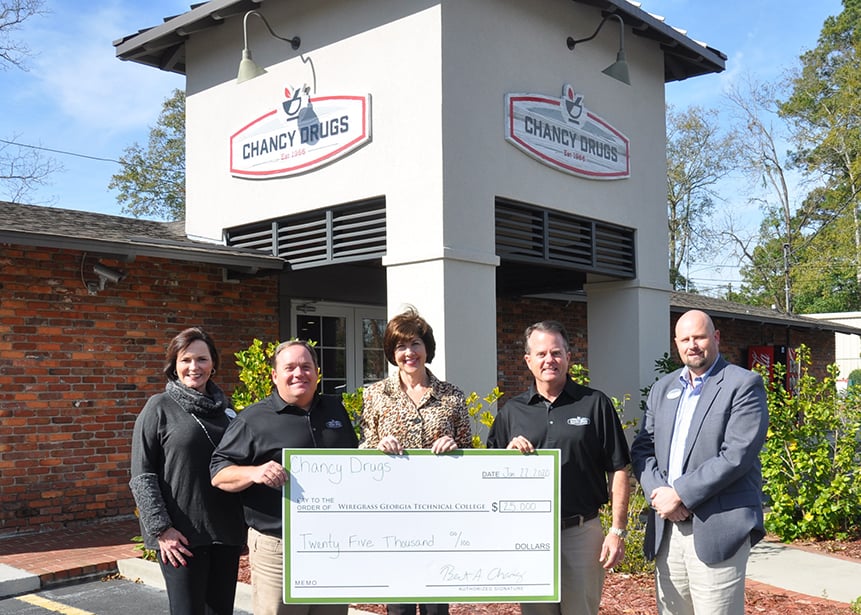 A commitment to community
In the spring Wiregrass will break ground on a new Health Sciences building located on the Valdosta Campus. The building will be home to over 10 health care programs. The new facility will be equipped with high-tech equipment that will provide Wiregrass students with more opportunities to learn and become excellent health care providers.
A room in the new building will be named in honor of Chancy's commitment to support the college and the Pharmacy Technology program.
"The Chancy Drugs legacy was founded on a genuine commitment to invest in the health of our patients, and our community as a whole," said Bert Chancy, owner of Chancy Drugs. "Supporting Wiregrass Technical College aligns perfectly with our Chancy Drugs mission of meeting the expressed and unexpressed needs of our patients and community. We're proud to support Wiregrass Technical College's efforts to train allied health professionals that will soon work alongside our Chancy Drugs family to provide high quality healthcare in the communities we serve."
An investment in healthcare
"Maintaining the highest integrity in every area of our business is a principle our father and mother were very passionate about when they founded our company over 50 years ago," said Hugh Chancy, RPh, owner of Chancy Drugs. "By partnering with Wiregrass Technical College, we feel we're doing our part to ensure our community has access to highly trained allied health professionals who have the knowledge and skills needed to do their jobs confidently. We're grateful for the opportunity to invest in the future of healthcare locally, which will make a difference in the lives of many people in our community."