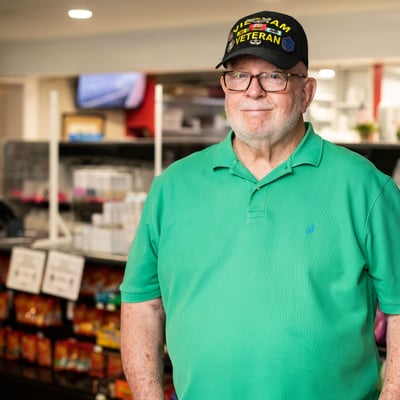 They're great people. They're local. Chancy Drugs is a true hometown pharmacy!
Chancy Drugs makes a compound that saves my life when I have sinus problems. The prices are great. The people are friendly and they care about you. When I walk in the door, they know my name.

I know they are going to take care of me. That's a promise they made me when we transferred our medication here. They see a need I have before I even see it
When I call in prescriptions it's just minutes before I get a text from them telling me my prescription is ready. Everyone is so friendly, nice and kind. They really do care about their patients. We've used Chancy Drugs for a long time. They're truly like family to me.

I chose Chancy Drugs primarily because it's just two blocks from my house in Hahira. But honestly, Chancy Drugs is so much more than a drugstore to me.They help me and support me. They'll call and remind me if I don't pick up my medicine on time. You really couldn't find a more caring group of people who want what's best for their patients.

The Chancy Drugs ReadyMed program is so easy. I don't have to worry about calling in to get my prescriptions refilled. My Health Coach calls me every month to check on me and see if I've had any changes to my medication. Then they handle everything else for me. They take great care of me.

Since I take so many medications every day, my pharmacist suggested I try Chancy Drugs ReadyMed medication packaging service. Having my medications pre-packaged and labeled with the date and time of day I'm supposed to take them has been really beneficial for me, but also for my wife who takes care of me. Our whole family uses Chancy Drugs. I would highly recommend them to anyone!

Chancy Drugs treats me like family. The staff is so friendly and the pharmacists always make time for me. They even make recommendations for me on ways I can save money on my prescriptions. They truly go above and beyond to make sure I'm taken care of.

Phenomenal team with amazing staff that care for you and your loved ones.

They always take such great care of us. Beyond fantastic!

If you don't use Chancy Drugs, please try them! They are the best drugstore around and the most wonderful people to work with.

I have been w Chancy over. 15 yrs. Their service has always been above and beyond amazing. I love Chancy Drugs. They have always, without fail, been there for me and my Parents! God blessed us with Chancy Drugs. I can't thank them enough!

The best pharmacy. They treat you like family.